Line up
and more ...
Other products are available on Amazon.com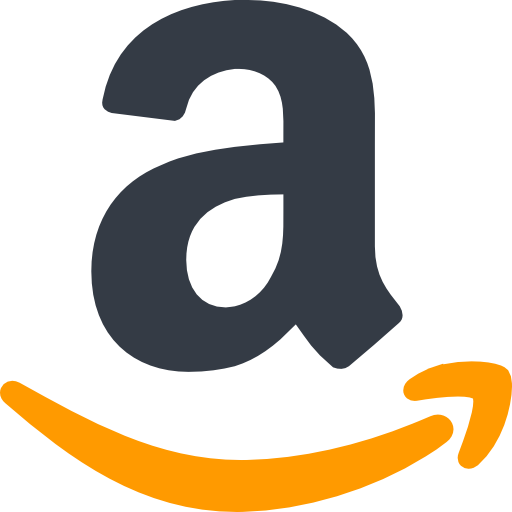 What is "Homaekake"
It is said that around approximately 800(AD), Indian natives arrived ashore in Mikawa, Aichi Prefecture, and this brought cotton seeds to Japan for the first time.
The cotton fabric industry started in Mikawa, and became prosperous by 1500.
The cotton fabric became known as 'Sanpaku-momen' and was sent to Edo, the city we now know as Tokyo today.
People developed the 'Sanpaku-momen' fabric with western influence and as a result, the fabric became well known all over Japan as brand names of 'Mikawa-momen' and 'Mikawa-jima'.
The traditional Homaekake apron, made from the famous Mikawa-momen fabric, has been cherished as workwear for centuries due to its durable properties in preventing wear and tear to worker's clothes.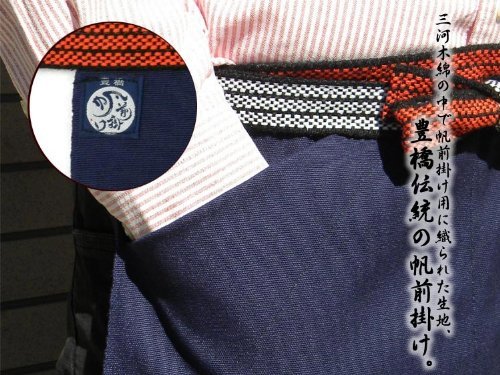 The apron ties firmly around the waist, supporting the lower back to protect workers while lifting heavy items, preventing holes in clothing, and protecting the legs.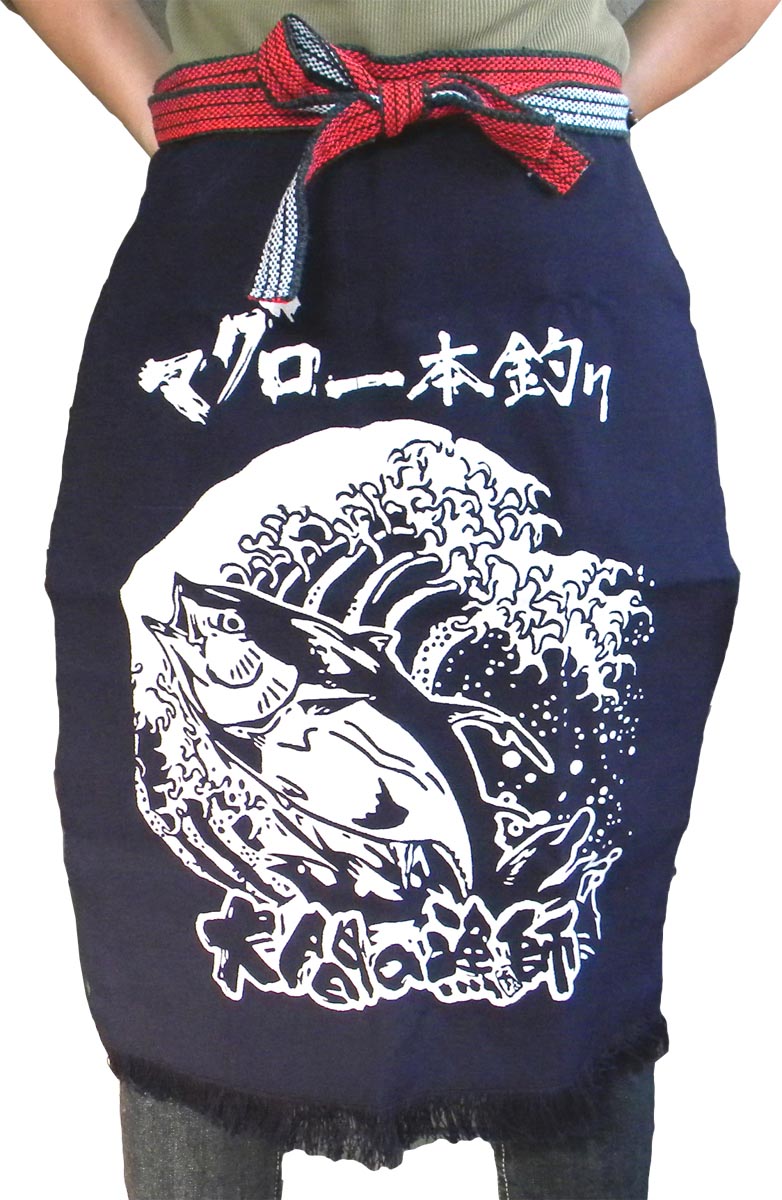 This thick fabric can be dyed to any colour the weaver chooses, and lends itself perfectly to being used as a uniform or for advertisement of a business.
Although seemingly a simple design; rectangle in shape and traditionally with red and white apron strings, the Homaekake design contains within it years of wisdom of the past, and today, it is used in places such as restaurants, kitchens, for BBQ cooking, or as outdoor-wear.
Who we are
In 1975, our sewing company 'TAKAHASHI SEWING inc.' was founded by Kiyoshi TAKAHASHI, setting up his family business and working alongside his son Hideki TAKAHASHI.
Hideki began locally manufacturing Homaekake in Toyohashi in the year 2000 and has been lovingly crafting them now for more than 20 years.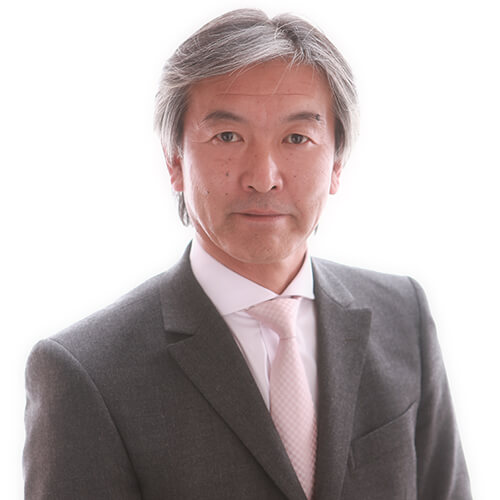 We have been designing and sewing Homaekake alongside our other products in cooperation with local textile factories, material factories, and dye houses in Toyohashi, and we have been providing high end quality products not only to people in Japan but also to people all over the world.
Custom Homaekake Orders
For our business customers we offer a bespoke service with many customisation options.
Please see below for details: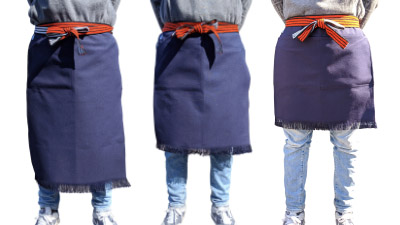 Size Variation
Length
Long size
Around 70cm(27.6in)
Middle size
Around 55cm(21.7in)
Short size
Around 48cm(18.9in)
* Width Around 46cm(18.1in)
If requested, custom size are available.
Material
・Cotton100%
・Cotton75% / Rayon25%
Pockets
Options can be added upon request.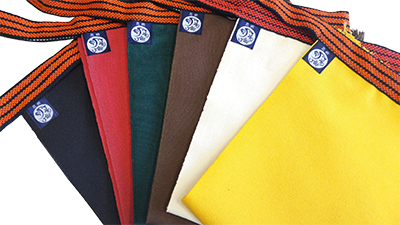 Color Variation
Standard color
・Ecru
・Navy
・Black
・Green
・Brown (End as stock out)
New color (Traditional colors of Japan)
・Yobeni-iro (Red)
・Karashi-iro (Yellow)
・Kurikawa-iro (Dark brown)
・Yomogi-iro (Dull Green)
・Usucha-iro (Light Brown)
If requested, custom color are available.
Order flow
Our experienced staff will work closely with designers and processing factories to create your original products.
1. Consultation/Estimate
Please let us know your design, number of sheets, and desired processing method. Our staff will provide you with an estimate and proposal based on the information you provide.
2. Confirmation before production.
We will send you an image of the production, and once you confirm it, we will start the production!
3. Production
We will begin production according to the details of your order.
The delivery time depends on the time of the order and the processing method.
4. Shipping
As soon as it is completed, it will be delivered to the designated location.
We can also deliver in installments or to multiple locations upon request.
Please contact us
"I have a design like this, what kind of printing do you recommend? "

Please contact us for any questions you may have!